becs1024
Yeah, I'm officially a huge dork.
This is a soundtrack of sorts I made for F. Scott Fitzgerald's
The Great Gatsby
- or really, more of a soundtrack to one of Gatsby's infamous parties. It's a combination of authentic 20's jazz (Lionel Belasco, Zoot Sims), imitation 20's jazz (Vince Giordano, off the
Ghost World
soundtrack), 30's and 40's big band (Dinah Washington, Ella Fitzgerald), imitation big band (Bjork), new stuff that sounds old (Nellie McKay, Jamie Cullum) and the
Triplets of Belleville
soundtrack, weirdly enough. I'm actually quite pleased with how it came out. Plus, it represents one of the weirder corners of my musical taste.
And so I present to you...
The Party Next Door: A Great Gatsby Soundtrack
Generique D'Ouverture
Triplets of Belleville
I Must Have It
Vince Giordano's Nighthawks
Venezuela
Lionel Belasco
I Get A Kick Out Of You
Jamie Cullum
Bach A La Jazz
Triplets of Belleville
I Wanna Get Married
Nellie McKay
Our Love Is Here To Stay
Dinah Washington
Georgia On My Mind
Vince Giordano's Nighthawks
It's Oh So Quiet
Bjork
Blinuet
Zoot Sims
Rue St. Vincent
Yves Montand
You're Just My Type
Vince Giordano's Nighthawks
Attila Marcel
Triplets of Belleville
Clarice
Vince Giordano's Nighthawks
Manhattan Avenue
Nellie McKay
Dream A Little Dream
Ella Fitzgerald
My Funny Valentine
Ben Webster
Here's the front cover: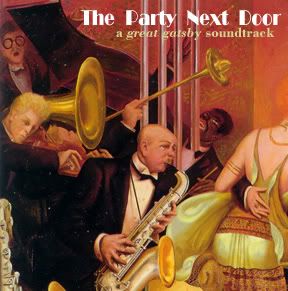 If anyone wants a copy, please let me know. I know jazz isn't everyone's cup of tea - especially old timey stuff like this - so I'll wait to get requests before I start up the factory. Oh, and JT? I already burned you one.
In other news, happy Valentine's day, all. I had a good one.